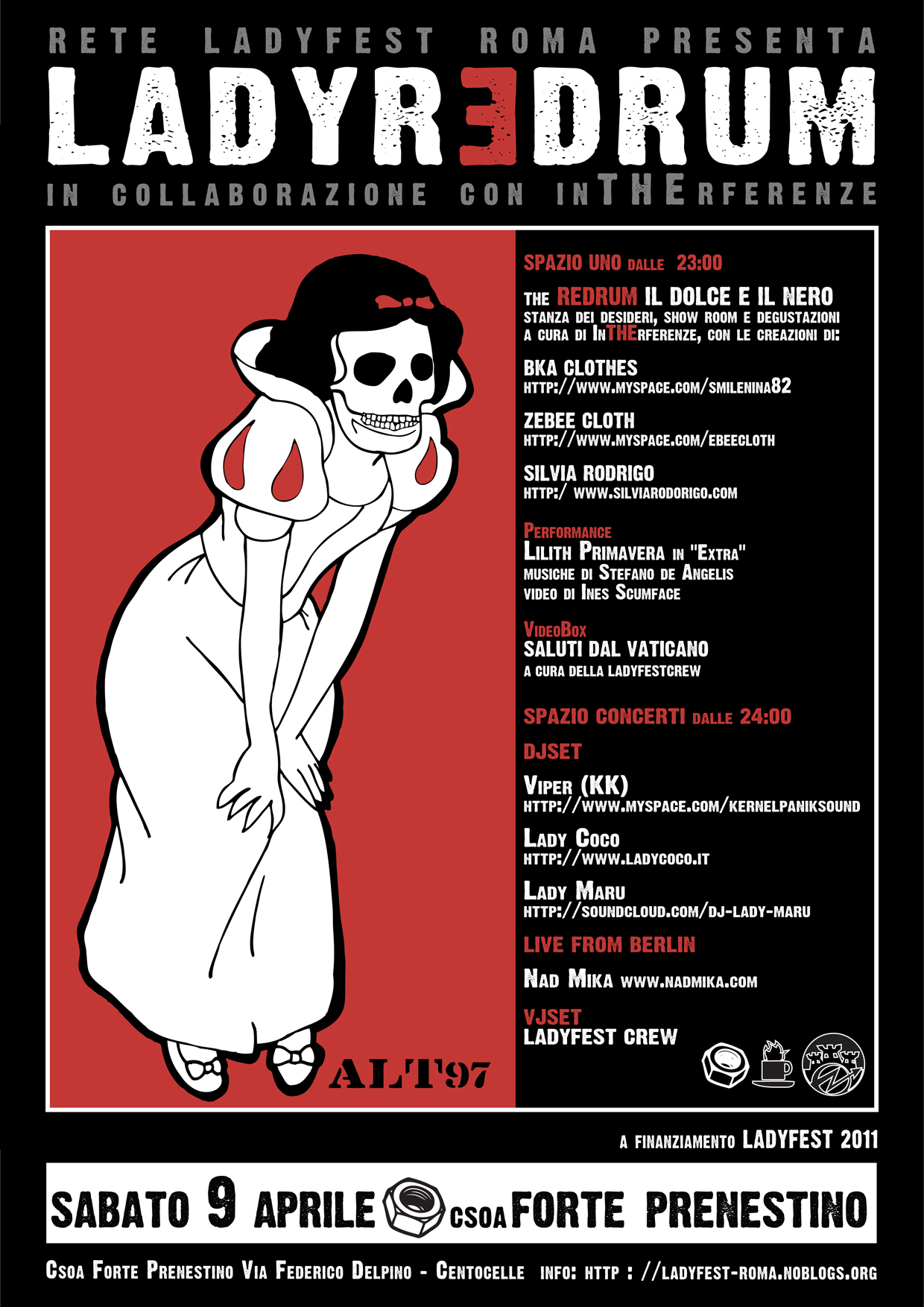 SPAZIO UNO// the REDRUM /IL DOLCE E IL NERO
Stanza dei desideri, show room e degustazioni a cura di InTHErferenze, la sala da te' del csoa Forte Prenestino, con le creazioni di:
SILVIA RODRIGO http:/ www.silviarodorigo.com
BKA CLOTHES http://www.myspace.com/smilenina82
EBEE CLOTH http://www.myspace.com/ebeecloth
Performance:
Lilith Primavera in "Extra" musiche di Stefano de Angelis, video di Ines Scumface
VIDEO BOX:" SALUTI DAL VATICANO" a cura della LADYFEST CREW
SPAZIO CONCERTI
DJSET
WARM UP
Viper (KK)
Lady Coco http://www.ladycoco.it/
Lady Maru http://soundcloud.com/dj-lady-maru
LIVE FROM BERLIN
NAD MIKA www.nadmika.com
Since 4 years now Näd Mika rocks and shocks underground clubs and stages all around Europe with her neotrashelectro. Madrid, Stockholm, Budapest, Mailand, Oslo, Berlin, Istanbul, the list of her gigs is long and everywhere she fires the raverocket in your ass.
Her brand new track "to the max" is like the soundtrack to her artistic life so far.Some people are confused by her performance, some are freaking out.Her sound range hits you by electropunk, 80s 90s and pop club.Monthly she is writing for the Cologne based magazine "GLEICH" and also a book is in the pipe which will be released one day.Her two new EPs " To the max " and " Girlfriend 09 " feat. Sexy Sushi have been released by MADAMEVISAGE .
VJSET
LADYFEST CREW//YOU CAN TRUST!!